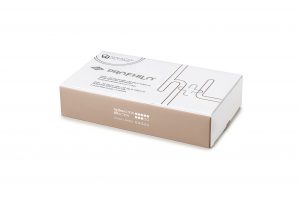 Profhilo is an exclusive skin remodelling treatment. For best results you are recommended to have 2 treatments 4 weeks apart. This revolutionary new treatment to rival dermal fillers takes less than 30 minutes with 5 injection points into your area of concern. It stimulates 4 different types of collagen and elastin due to the slow release of hyaluronic acid, and it is this stimulation that results in significant improvement of tissue quality. Profhilo will treat skin laxity whilst improving and softening fine lines and wrinkles. It delivers a dramatic improvement in tissue quality, even in challenging areas, and is complementary to the other aesthetic treatments and dermal filler procedures.
It is considered to be a true breakthrough in anti-ageing medicines. Areas that can be treated are face, neck, back of hands, loose skin above the knee and upper arms.
The initial cost is £400 – 2 treatments 4 weeks apart, then a maintenance treatment is required every 4-6 months of 1 treatment at £200.
Time 30 minutes
Cost £200 for 1 treatment / £400 for 2 treatments
Make a Booking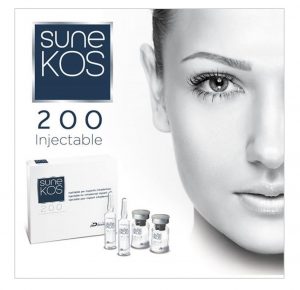 Sunekos is a new, intelligent injectable substance containing a potent cocktail of amino acids and hyaluronic acid (HA). These are vital building blocks of healthy and hydrated skin. Sunekos works by stimulating the fibroblasts in the skin to encourage it to produce a complete mix of collagen and elastin, restoring the vibrancy, youthful glow and health of the skin in a course of 3-4 treatment sessions every 7 to 10 days.
What can Sunekos treat?
Sunekos can be used on the face, neck, décolletage and under the eyes and treats a wide range of symptoms including
• Loss of skin tone and skin sagging
• Severe wrinkles
• Lack of hydration
• Acne scarring
• Dark circles under eyes • Sun damage
• Fine lines and wrinkles • Lifting and tightening
• Increased volume and plumpness of the skin
• Improvement in the appearance of deep wrinkles
• Increased deep and surface skin hydration
• Improvement in contour definition
Time 60 minutes for the initial treatment then 45 minutes for following treatments. Cost £500 for 4 treatments – 3 sunekos 200 and 1 Sunekos 1200
Maintenance treatments are needed every 6 months of 1 treatment of Sunekos 200 at £150 or Sunekos 1200 £200 depending on need.
Make a Booking
Redensity is a skin booster used to improve tissue quality, increase hydration and minimise lines and wrinkles. Redensity 1 is a Hyaluronic Acid based product which contains vitamins, minerals, amino acids and anti-oxidants.
It can be used on the face, neck and hands and involves tiny superficial injections. It can be used on its own or in addition to other treatments. Redensity treatment is recommended to have 3 treatments carried out at 3 weeks apart, then a maintenance treatment is required every 4 to 6 months to maintain the effects.
Time 45 minutes
Cost 1 treatment £200
Course of 3 treatments £500
Make a Booking
To book in for any of these treatments or to book a non obligatory free consultation book here.