A

six

stage

transformational

facial.

The

ultimate

wow

factor

treatment,

using

the

most

advanced

skin

care

technologies

carefully

selected

and

meticulously

arranged

to

leave

skin

glowing

,

luminous

and

healthy,

with

long

lasting

results.

Wow

facials

can

help

with

so

many

skin

conditions,

hydration

concerns

and

overall

radiance,

including

rosacea,

acne,

open

pores,

oiliness,

pigmentation,

fine

lines

and

wrinkles,excessive

facial

sweating,

dull

skin,

rough

skin

and

poor

skin

structure.
A luxury facial which combines the benefits of microneedling with mesotherapy, chemical peels and LED light therapy. The treatment is truly tailored to your individual needs with lasting transformative results. The treatment has minimal to no downtime. The treatment combines scientific knowledge with innovative formulations to bring together the best of most popular aesthetic treatments. The treatment rehydrates the skin with the most essential vitamins and peptides that will truly give you a personalised facial that really is WOW.
The 6 stages of the facial are.
Stage 1: Our specially formulated active cleanser starts the exfoliation process to prepare for the resurfacing peel
Stage 2: One of our active ingredient peels is selected for you, designed to treat your skin concern.
Step 3: Next a unique cocktail is created for your skin type using our revolutionary WOW fusion skin needling device
Step 4: The Wow LED mask. The Wow LED mask uses professional strength  light therapy to improve skin quality, rejuvenate, improve pigmentation, and reduce bacteria on the surface of the skin.
Stage 5: The Wow mask is a post procedure mask loaded with hyaluronic acid, hydrolysed collagen peptides and stem cells.
Step 6: The ideal finishing solutions are applied, our hydrating eye cream and SPF50 will be applied for the WOW factor.
Cost – prices start at £150
Make a Booking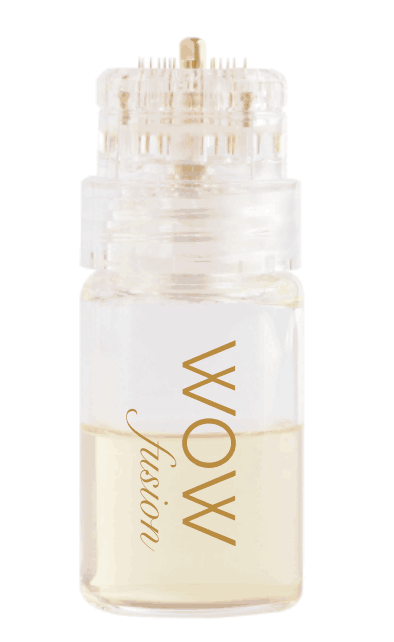 To book in for any of these treatments or to book a non obligatory free consultation book here.